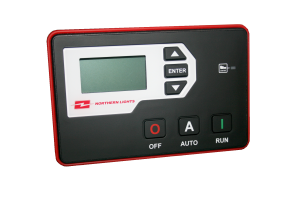 TSC – The Controller Tough Enough For Northern Lights
SEATTLE, WASHINGTON (USA) – Leading marine power generation manufacturer Northern Lights is proud to present the TSC Tough Series control panel.
With a back-lit LCD display screen and large, easy-to-read push buttons, TSC provides a truly intuitive control to Northern Lights generator set functions. TSC is versatile enough to permit remote monitoring and control connection through a single data and power cable, up to 30 meters in length. Available RS485 and J1939 protocols can be connected to a remote monitoring system.
The TSC is factory programmed with voltage and current monitoring for single and three-phase applications. Pressure and temperature warnings and shutdowns are standard to help protect your generator set; warnings and shutdowns for frequency and voltage protect your electrical equipment. Sound enclosure mounting is available for a quiet and streamlined engine room.
"The state of the art in power generation deserves a control panel that is up its equal in terms of quality and performance," says Northern Lights, Inc. Vice President and General Manager Brian Vesely. "TSC provides the depth of information that boatbuilders and captains require. Northern Lights' experienced engineers will factory-customize the level of control that is appropriate for our clientele."
The Tough Series Controller is available on a wide range of Northern Lights generator sets, both marine and land-based. The Northern Lights family of marine generator sets includes products from 5-545kW. Northern Lights Commercial series generator sets include products from 20-150kW.