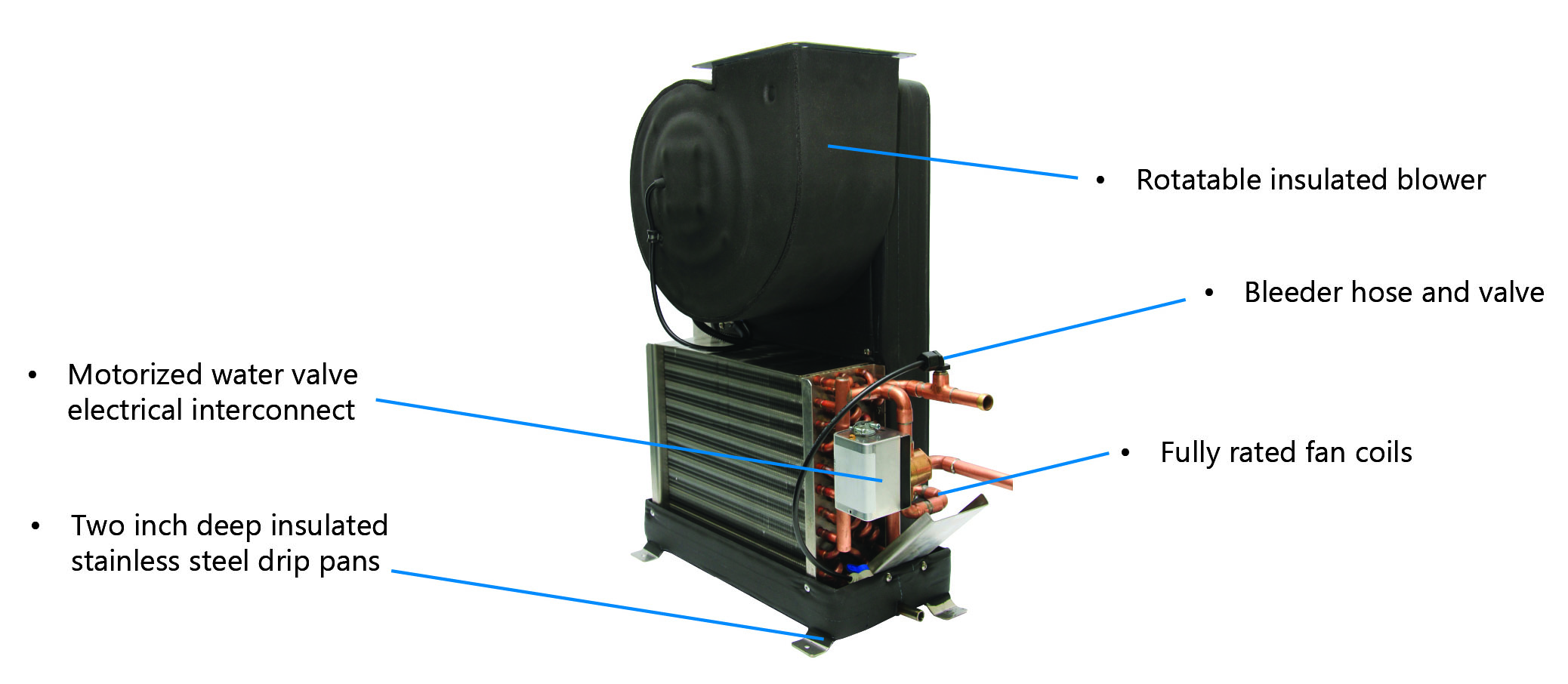 Specifications + Dimensions
| Model | RAVC12 |
| --- | --- |
| BTU @ 60 HZ | 12,000 |
| BTU @ 50 HZ | 10,000 |
| AMP Draw (230V 1ph) | 0.62 |
| CFM | 370 |
| Dimensions: HxWxD in. (mm) | 25.8 (655) x 20.5 (520) x 8.7 (221) |
| Weight: Lbs (kg) | 36.5 (16.6) |
| Model | RAVC16 |
| --- | --- |
| BTU @ 60 HZ | 16,000 |
| BTU @ 50 HZ | 13,200 |
| AMP Draw (230V 1ph) | 0.78 |
| CFM | 450 |
| Dimensions: HxWxD in. (mm) | 25.8 (655) x 20.5 (520) x 8.6 (218) |
| Weight: Lbs (kg) | 38.2 (17.3) |
| Model | RAVC18 |
| --- | --- |
| BTU @ 60 HZ | 18,000 |
| BTU @ 50 HZ | 15,000 |
| AMP Draw (230V 1ph) | 0.78 |
| CFM | 450 |
| Dimensions: HxWxD in. (mm) | 25.8 (655) x 20.5 (520) x 7.125 (181) |
| Weight: Lbs (kg) | 43.5 (19.7) |
Space saving design with minimal foot print for tight installations.
Constructed with 16 gauge 316L grade stainless steel shroud, and insulated pan with twin drains.
Fully insulated stainless steel plenum.
Two inch deep insulated stainless steel pans contain condensate.
Bleeder hose and valve come standard.
Fully rated fan coil set.
High velocity, rotatable insulated blowers.
Custom water valve locations available.
Heat strips and UV lamp options available.
Engineered to eliminate the need for vibration isolation mounts.
Designed to thrive in harsh marine environments.